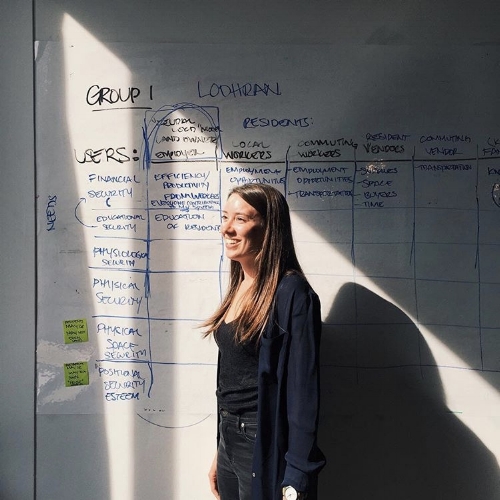 Adrienne Pacini, MDes
Urbanist | Design Researcher | Facilitator
Adrienne is an urbanist, design researcher, and facilitator. She currently works at SHS Consulting, a housing policy and development consulting firm, as a Senior Design Researcher.
Adrienne completed a Bachelor of Arts degree at McGill University in Urban Systems, with minors in Economics, Field Studies, and French Language and Literature. She recently completed a Master of Design in Strategic Foresight and Innovation at OCAD University, winning the award for Best Major Research project in her graduating class for Housing Horizons: Models for Real Estate and Community Investment. Her coursework focused on developing strategic, innovative and future-oriented solutions and implementation plans for design, business or policy innovations, and for organizational and infrastructural change.
Adrienne has developed specialized expertise in public engagement processes and quantitative and qualitative field research methods. She regularly works with clients not only to research and develop housing policies and programs, but to design strategic planning and visioning sessions to help non-profit groups infuse housing into their organizational strategies. Adrienne has been the lead researcher and author of several large-scale housing strategies for upper-tier municipalities across Canada. She has led business model innovation and design research work for the Region of Peel, through the Peel Supportive Housing Action Plan (winning an OMSSA Municipal Champion Award), Peel Housing Corporation, Regeneration Outreach Community, and Springboard Services, among others. Adrienne has conducted housing research for all levels of government, including Canada Mortgage and Housing Corporation and has shared her expertise at several housing forums, including the Ontario Non-Profit Housing Association's 2016 Conference (Toronto), 211 Ontario Conference (Toronto), Systemic Design Network's Relating Systems Thinking and Design Conference (Oslo), and the Ontario Professional Planners Institute Conference (Collingwood).
Over the past five years, Adrienne has conducted dozens of interviews, focus groups, and workshops with persons experiencing homelessness, individuals living in social housing and supportive housing, support service and community agencies, and municipal government stakeholders and partners across Ontario. Adrienne has also completed the Tri-Council Policy Statement: Ethical Conduct for Research Involving Humans Course on Research Ethics (TCPS 2: Core).